WARNING: This review may be outdated. By this time, Beauty and the Thug may have much more content, more renders and animations, and include some new game features that hasn't been described below. Also, the current version of the game may have some features described in the paragraph "Plans for the Future."
Beauty and the thug, romantic kinky story
    My game "Beauty and the Thug" includes about 14,700 renders and 1,100 animations. Thus, despite being in development, it contains much more material than many completed games. You won't be bored for sure!
You can watch this video to learn quickly about my game: 
The main protagonist, let's call her Lisa, is a 19 years old ginger girl. Lisa is recovering after huge stress, but she is by far not a poor thing. She starts being naive and innocent but grows into a strong personality.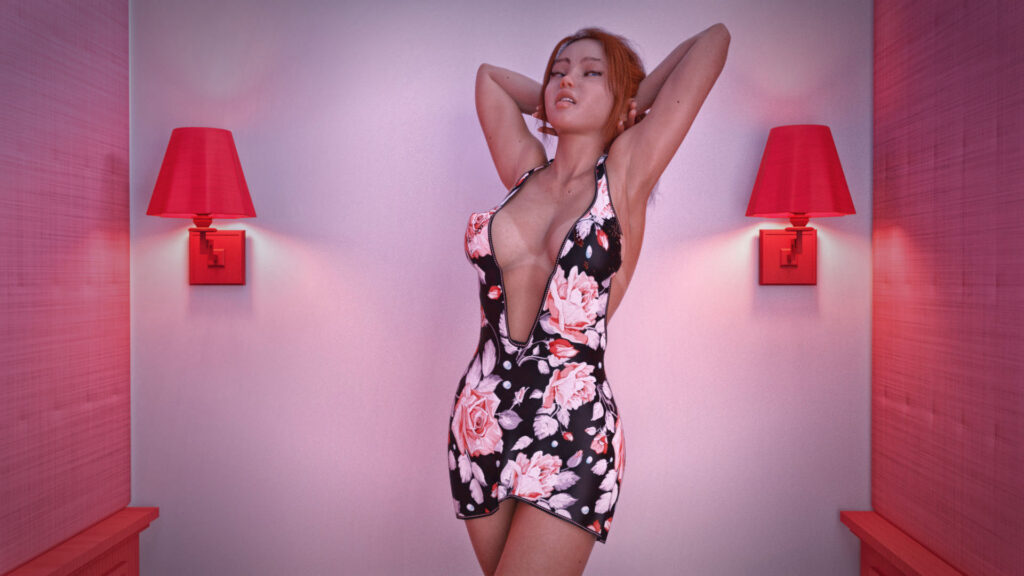 Lisa is an intelligent and hot young lady with a sexy body and a charming appearance. Her skin is pale, but she develops nice tan lines during the game. Her haircut also changes depending on the occasion. Lisa's genitalia forms a nice camel toe when Lisa is wearing panties or tight sportswear. Her C-size breasts get slightly swollen and sensitive. In fact, the whole body becomes very sensitive and reacts so vigorously to various arousal factors that she doubts if it's normal and goes to a gynecologist. Luckily, she is perfectly healthy.
Also, you decide if Lisa has to shave her ginger pubes and armpits or leave them unshaven.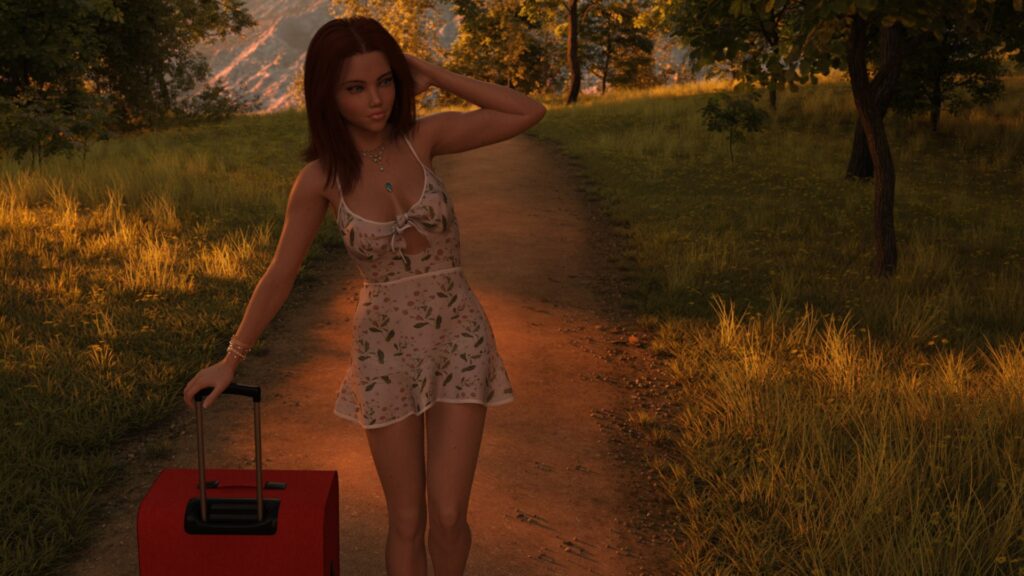 By the time she was eighteen, our heroine knew everything about her future. She was the best student in her high school and knew anatomy and physiology like the back of her hand. Being a doctor was her dream, her passion. But everything changed in one moment.
She is now nineteen and had to grow up quickly this past year. She needed a change and has decided to move to the city. But she got into trouble even before reaching her destination. And this episode changes her destiny.
Should Lisa get together with a man who she likes and hates simultaneously? Or it's better to get revenge and get rid of him?
Should Lisa reconnect with her best female friend? Are their feelings much deeper than just a friendship?
Lead Lisa through her life and let her decide what she really wants.
The crucial idea of "Beauty and the thug" is how males and females interacting make each other better. There's no rape and blackmail in the game. Thus, the game is designed for both male and female auditory. However, light lesbian content is not completely avoidable even if you choose a "straight route" (lesbian sex is avoidable, though.)
If someone asked me to describe my game in two words, I'd say it's romantic and kinky. Thus, it's a romantic visual novel with sandbox insets between the main storyline events. During these insets, Lisa discovers her sexuality and develops numerous fetishes of your choice.
First, Beauty and the thug is a romantic story. Lisa has two main options for romance – male and female.
A male character, Hunter, obviously is a thug. He's a tough guy who has a tough life. Hunter leaves by his own moral laws, but he may realize that he's doing something wrong at some point. Hunter and Lisa rub off on each other, and as a result, both are getting better.
The second romance option is Lisa's best female friend; they had a fight but could reconcile. Their feelings can be much deeper than just a friendship.
Lisa has a special friend, Dolly. Of course, Dolly is just a doll, but in Lisa's dreams, she becomes very real. Dolly doesn't know more than Lisa knows because she is just a reflection of Lisa's mind. But she can look at things from another perspective and help Lisa with advice.
Dolly has an orc-friend, Roarrk. He's a brutal grumpy orc, but Dolly loves him no matter what.
The storytelling goes mostly from Lisa's perspective, while the renders and animations are made from a third-person POV. So, as one of my supporters said, "you're like a fly on the wall watching her most intimate day-to-day moments when she feels safe."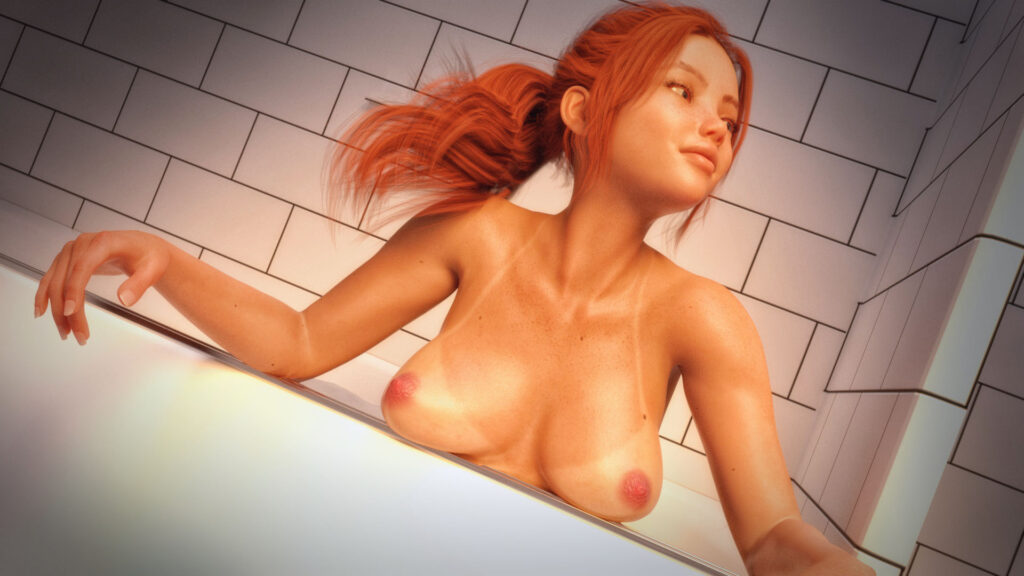 (This part is avoidable, so you can make the game very vanilla.)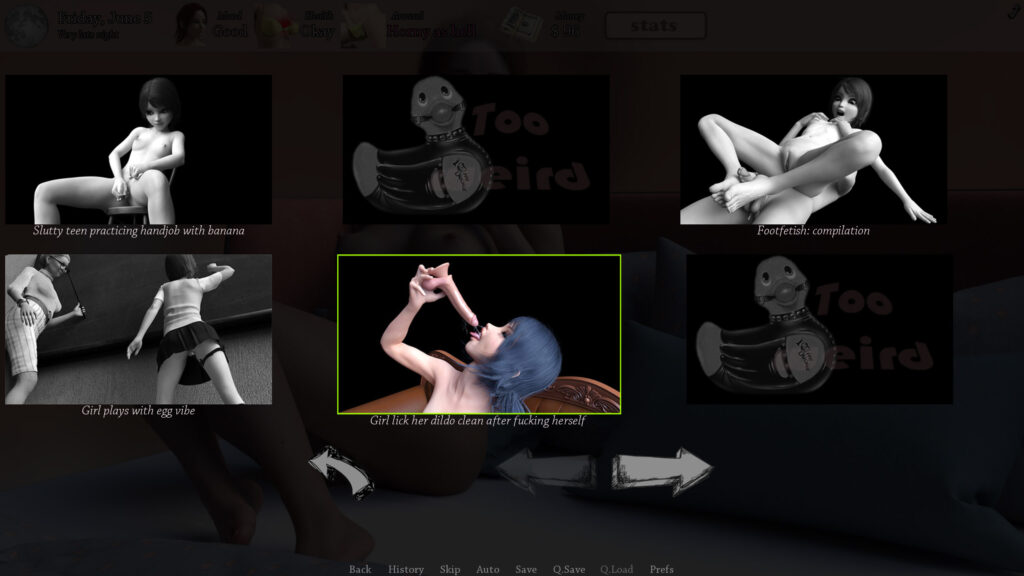 "Beauty and the thug" has a unique corruption system and a wide variety of fetishes. It's not about turning a virgin into a slut as it happens in most games of this genre.
Lisa starts from a pretty vanilla state: she is not a virgin and had some sexual experience with her ex-boyfriend from her hometown. After moving to the city, she starts living alone. So, Lisa uses this opportunity to discover her sexuality and learn what she likes. Lisa relentlessly dives into kinks and fetishes and experiments with her body and mind. She watches lewd videos, does Internet research, buys various toys and different assets, and practices, practices, practices.
There're 19 fetishes Lisa will be able to learn. Thus, there's a big chance you will find your favorites.
To progress, Lisa has to:
Watch related porn, or
Have some practice, or
Make Internet research.
Some fetishes are available from the start; for others, you'll need to meet some requirements progressing in available fetishes to a certain level. This progress opens additional actions during sexual scenes and allows you to buy more stuff in an adult boutique.
    Here is the complete list of the fetishes I'm going to implement: those of them which have not been implemented yet are marked as strikethrough:
HANDJOB. Quick progress, useful (but not absolutely necessary) at the straight route. Opens Blowjob.
BLOWJOB. Up to deep throat.
FOOT FETISH. Quick progress, adds foot fetish extensions to many scenes.
PUSSY PLAY. Using a variety of sex toys. Up to fisting.
ANAL PLAY. Using a variety of sex toys in Lisa's rear hole. Up to anal fisting.
PUSSY EATER. Lisa gets addicted to the taste of vaginal juices – her own and the other girls.
RIMMING. Lisa gets addicted to rimming.

CUM PLAY. Lisa gets addicted to the taste of cum, feeling cum spurts on her body and even in her panties.

EXHIBITIONISM. Up to crazy actions outdoor and in front of other people.
TEASING. Teasing and edging before cumming. Up to ruining orgasm.
ORGASM DENIAL. A logical continuation of Teasing. Asking for permission to cum. Edging without cumming. Up to wearing a chastity belt.
ANAL ONLY. Continuation of Anal Play and Orgasm Denial. Up to vaginal sealing piercing and losing options for vaginal sex.
ENEMA. Up to huge enema loads and prolonged enema retention.
PISS PLAY (Watersport)*. Up to piss drinking, wetting herself in public, not peeing without permission.
URETHRA PLAY. Stuffing Lisa's piss hole with sounds and other objects.
BONDAGE. Variety of poses, shibari.
MASOCHISM. Spanking, clamps, needles, and a lot of other painful stuff.
PET PLAY. Up to pet lifestyle.
ARMPIT FETISH. Can be turned on or off. Includes armpit licking and will contain more related scenes n the future.
     Everything can be combined and is avoidable.
The Marriage of Sandbox and Visual novel
 The game contains the best from two words. Some days are scripted (or partially scripted) and represent the storyline, but most days are sandbox when Lisa does her routine and learns different kinky stuff. Sandbox events do not affect the storyline: if something is going to happen on June 15th, it will happen on June 15th, no matter what. Things learned during sandbox events will affect how certain events will happen but not their results.
To Shave or Not to Shave?
 Do you prefer smooth-shaved pussy and armpits? Or are you a hairy guy? Perhaps, you like to try something unusual like shaved pubes and hairy armpits? "Beauty and the thug" is the only visual novel that allows you all these options!
Lisa decides to shave or not to shave during her morning routine, but you can change this option anytime from the game menu or with hotkeys. "P" toggles shaved/hairy pubes; "A" toggles shaved/unshaven armpits. Thus, you can change this option in real-time and look at any picture or animation using different options without reloading the game. It affects all female characters, not Lisa only.
One of the perks of learning exhibitionism is the ability to change your outfit in various situations. 
Thus, Lisa starts wearing her favorite long T-shirt and panties at home, but at some point, she starts feeling more comfortable without them.
Another example: Lisa can go to the grocery wearing her sexy shorts. But one day, she may dare to go out in a miniskirt and pantieless. You can switch your outfit at certain day moments or anytime from the game menu and enjoy the result immediately.
    "Beauty and the thug" has a gallery with 88 entries by now. Click on any locked event – and Lisa gladly gives you a piece of advice on how to unlock it.
    You may need cheat codes to raise three basic Lisa's characteristics (health, mood, and arousal), add money, and develop skills and fetishes.
    You can't learn everything and watch each lewd scene during one play – there's too much content. So, after Day 5, you will have an option to repeat this day, preserving everything you have learned. It's cheating, but it allows you to learn everything without reloading the game.
Almost every day ends in Lisa's bedroom, where she decides if she needs some relief before sleeping. Her health, mood, and arousal must be higher than a certain level to have this relief. Lisa is a girl with a very vivid imagination, so she can release tension in many ways – really many ways. I bet you didn't see so many options in any other game. Learning different fetishes and buying toys at the adult boutique add more options.
Besides, Lisa can have this relief while bathing, showering, or inviting her female sex buddy, Sandra.
I tried to make "Beauty and the Thug" as easy as possible. So, you will never have choices where the only one is correct, and everything else leads to a game over. Or, you won't face the situation when a critical event becomes impossible because you don't have enough money – Lisa will use her credit card.
However, my game has so much content that it's impossible to see everything during a single playthrough. My idea is, "you can play my game a lot of times, and each time you will have some new content." I still like this idea, but it leads to some problems until the game is not finished. Many players complained that replaying the same events 10+ times to open new scenes becomes annoying. Because of that, I added to my game a series of different cheats to alleviate opening new content.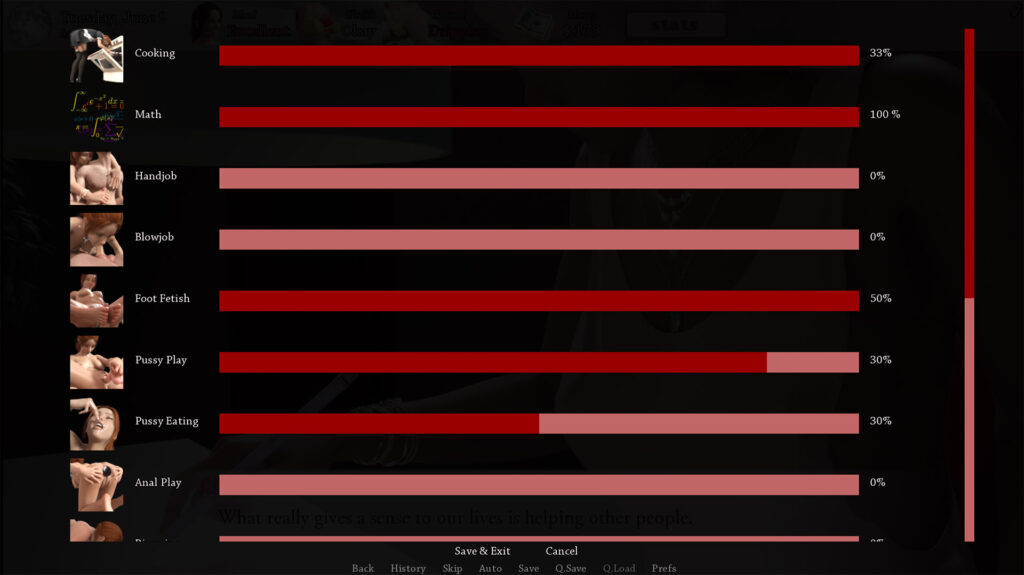 Here you have sliders to set the progress of fetishes to the position you want. Besides, you can input cheat codes to increase the amount of money, change the relations with certain characters, change Lisa's mood, health, arousal, etc.
After finishing the current version of the game, Lisa will suggest you continue playing as long as you want. During these Groundhog Days, you can discover different events and different fetishes you haven't learned. 
After finishing the current version of the game, Lisa will suggest you save your skills. Thus, Lisa will know everything you have learned right from the start of a new game.
You can input a special cheat code in the cheat menu to toggle a Fetish Queen Mode. After unlocking this mode, Lisa behaves like she has all possible fetishes. Thus, you can be sure you won't skip any fetish-related content.
Lisa will delve deeper into existing fetishes and research new ones. The story with Hunter will develop; Lisa may start dating him or get rid of him. A bit later, our heroine will meet her BFF, Amy. Lisa will have a choice to let her live in her apartment or make her live somewhere alone. Besides, there will be a continuation of side stories with Sandra, Jose, the beach girls Carla and Mia, Arleen, Emma, Sierra, and Carmen, a photographer Charlie, a volleyball team, an adult boutique clerk Jackie, the pizza guy, and pizza girl, uncle John, and other characters.
Beauty and the Thug is a unique game in many senses. It combines a western graphic approach and Asian kinkiness. High-quality renders with accents on small details, hot animations, and cool interface features will make your game very pleasurable. But, the most unique is Lisa herself. I hope you'll love her and support me in telling this story to the end.
Your zegamez